Introducing UNE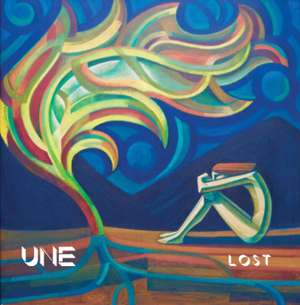 UNE is BBC radio broadcaster, writer and musician Mark Radcliffe and electro boffin, remixer and DJ Paul Langley.
Radcliffe celebrates his fortieth year in radio this year and has worked on local radio in Manchester as well as BBC Radio 1, Radio 2, Radio 3, Radio 4, Radio 4 Extra, Radio 5 Live and 6Music. He was for many years the host of the Radio 1 afternoon show in a celebrated partnership with Marc Riley as 'Mark and Lard'. For the past decade he has shared an equally successful coupling with Stuart Maconie on Radio 2 and 6 Music. He has presented many programmes for television including 'Music for Misfits: The Story of Indie' on BBC 4 and has for many years been one of the mainstays of the BBC's TV coverage of the Glastonbury Festival. He has released many albums with his bands The Shirehorses, The Family Mahone and Galleon Blast and is also the published author of four best-selling books: 'Showbusiness', 'Northern Sky', 'Thank You For The Days' and 'Reelin' In The Years'. His fifth book 'Crossroads' will be published in September. Mark has recently been given the all clear from head and neck cancer and is now officially in remission and 'loving life'.
Langley was a long time habitue of Manchester's legendary Hacienda where he was a regular dj fixture in the company of his brother Bobby. Signed to Rob's Records, the label launched by New Order manager the late Rob Gretton, Paul honed his recording, programming and mixing skills working closely with the Factory Records family. An in-demand live dj, Paul's music has been released by many labels including Music Man and BMG, and his work has appeared in game soundtracks, on compilations and in films, notably 'Spike Island'.
Mark and Paul met and bonded at the Builder's Arms in their Cheshire hometown of Knutsford. There they discovered a shared love of music, Manchester City Football Club, dogs and beer. They have become, to the irritation of their wives, kind of inseparable and can often be seen walking Ziggy and Dusty around the local park resembling a Northern version of Gilbert and George.
The concept of UNE came about when Mark was looking for a new way to work following many years of writing the traditional way with an acoustic guitar. The flash of inspiration came when he was given a book called 'Lost in Translation' by Ella Frances Sanders. This listed and illustrated words from other languages for which there is no literal one-word translation into English. Examples are 'Boketto', a Japanese word that means 'gazing vacantly into the distance without thinking about anything specific' and 'Iktsuarpok' which in its native Inuit means 'the act of repeatedly going outside to check if anyone is coming'.  
Fascinated by the various definitions, Mark started to write lyrics with a selection of these words as the starting point. Drawing from the book he gave Paul a list of prospective UNE titles and told him what the meanings behind them were. He then gave him Ella's illustrations and asked him to start composing songs without words. Initially they worked entirely separately before coming together to assemble the finished tracks. It was a new way of working for both of them but one which seemed to click immediately.
The result is their debut album 'Lost' which has been mixed and mastered by Jim Spencer who has worked with New Order, Johnny Marr, The Charlatans and Doves.
UNE, always in capitals, made their live debut at the Loopallu festival in Scotland last September and have numerous festival appearances lined up including Blue Dot and Kendal Calling. A tour of the UK is proposed for October.
The name UNE was picked for several reasons. Firstly, it is just a great name for a band which is always important, but there's more to it than that. French for 'one', or be it the female version, it represented that though ostensibly a duo, Radcliffe and Langley worked for the most part on their own. Also the concept of 'the one' is reflected in all their songs having one word titles. It is also an anagram of one of their shared musical loves: the pioneering Kraut-rock band Neu.
UNE comes from a shared love of electronic music, graphic design and the poetry of lyrics and has created what Radcliffe and Langley like to think of as 'a cerebral soundtrack of elegant electro dream pop'.